ReforMDirect provides near-site and on-site clinic services for employers in Western Wisconsin.
ReforMDirect provides near-site and on-site clinic services for employers in Wisconsin's Chippewa Valley Area.
ReforMDirect is NOT Insurance
ReforMDirect is a primary care membership program for employers to provide high quality primary care in which employees are encouraged to utilize ReforMedicine clinic in Eau Claire and Menomonie, Wisconsin, for any primary care need. Employees have low or no out of pocket cost nor any limit to in-office appointments. Employees have priority access to high quality, independent, primary care. Employers pay a fixed per member per month rate for this service which reduces the number of claims on health insurance.
Near-Site and On-Site Clinic Employer Services
ReforMDirect plans are designed for employers with groups of 10 or more indiviuals participating in the membership benefit. RefoMedicine is NOT insurance, but is often paired with insurance as part of a comprehensive health benefits offering.
Frequently Asked Questions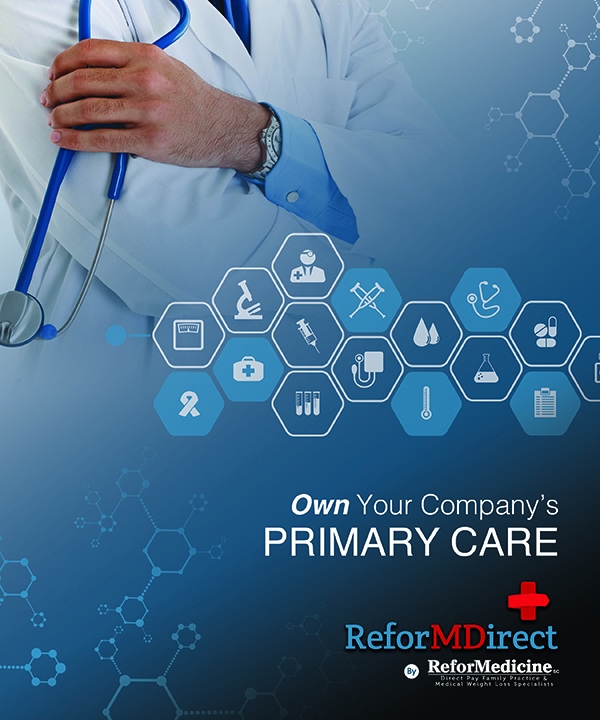 Partnering with ReforMDirect allows employers to experience a greater sense of control and ownership over their benefits offering, while providing an outstanding value of care for their most valuable assets--their people. We invite you to learn more about partnering with ReforMDirect and taking ownership of your primary care.
ReforMedicine and ReforMDirect are INDEPENDENT. What does that mean and why is it important?
ReforMedicine is not affiliated with any vertically integrated health system or network. Our primary care services are not a feeder for any system's specialist services.
Our loyalties are to our patients and our contracted employer clients.
We do not accept insurance of any kind for payment for any services provided at ReforMedicine.
Referrals to specialist care are based upon the patient's medical need.
ReforMDirect works with employers to outline a referral protocol based on the employer's transparency/advocacy provider or network to provide the highest value care in terms of cost and outcomes to their employees needing a referral.
ReforMedicine providers have extra time to spend with patients and and to hear all patient concerns; this allows the opportunity to better help analyze, diagnose, and treat a vast majority of issues.
What Do Patients Have to Say?
Employees who participate in near site clinic services through their employer overwhelmingly love the service. Patients continue to give us high ratings and leave us positive comments like these:
Very thorough, absolutely fantastic!
Awesome staff! Made me feel like I've known them forever!!
Great customer service, definitely coming back.
Love that my work provides services for us with ReforMedicine!
Join the ReforMDirect Program
Call 715-514-2827 or contact us online for more information.