ReforMDirect provides near-site and on-site clinic services for employers in Western Wisconsin.
ReforMDirect is INDEPENDENT and provides employers the opportunity to "OWN" their primary care.
ReforMDirect provides near-site and on-site clinic services for employers in Wisconsin's Chippewa Valley Area.
ReforMDirect is NOT Insurance
ReforMDirect is a primary care membership program for employers to provide high quality primary care in which employees are encouraged to utilize ReforMedicine clinic in Eau Claire, Menomonie, and Hudson, Wisconsin, for any primary care need. Employees have low or no out of pocket cost nor any limit to in-office appointments. Employees have priority access to high quality, independent, primary care. Employers pay a fixed per member per month rate for this service which reduces the number of claims on health insurance.
Near-Site and On-Site Clinic Employer Services
ReforMDirect plans are designed for employers with groups of 10 or more indiviuals participating in the membership benefit. RefoMedicine is NOT insurance, but is often paired with insurance as part of a comprehensive health benefits offering.
Frequently Asked Questions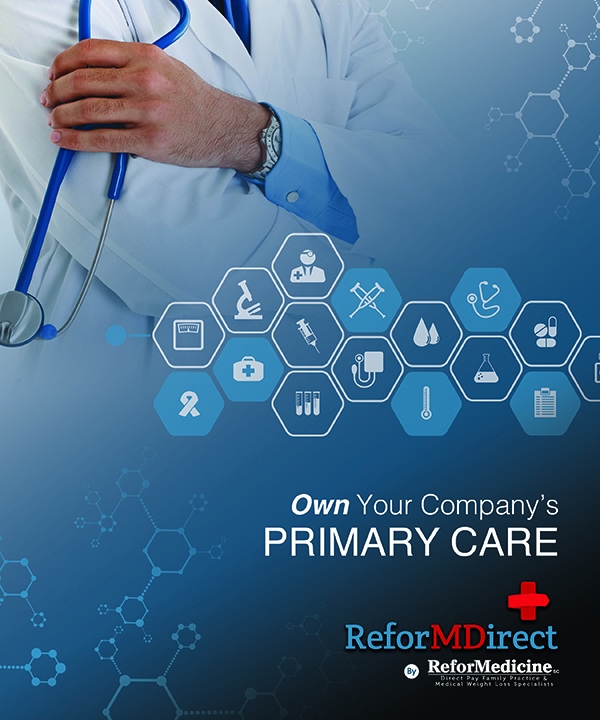 Partnering with ReforMDirect allows employers to experience a greater sense of control and ownership over their benefits offering, while providing an outstanding value of care for their most valuable assets--their people. We invite you to learn more about partnering with ReforMDirect and taking ownership of your primary care.
ReforMedicine and ReforMDirect are INDEPENDENT. What does that mean and why is it important?
ReforMedicine is not affiliated with any vertically integrated health system or network. Our primary care services are not a feeder for any system's specialist services.
Our loyalties are to our patients and our contracted employer clients.
We do not accept insurance of any kind for payment for any services provided at ReforMedicine.
Referrals to specialist care are based upon the patient's medical need.
ReforMDirect works with employers to outline a referral protocol based on the employer's transparency/advocacy provider or network to provide the highest value care in terms of cost and outcomes to their employees needing a referral.
ReforMedicine providers have extra time to spend with patients and and to hear all patient concerns; this allows the opportunity to better help analyze, diagnose, and treat a vast majority of issues.
ReforMDirect for Employers
Plan Options
PMPM=Per Member Per Month, FFS=Fee For Service
Service Description
Bronze
Lowest PMPM rate+ FFS monthly invoicing
Silver
Low PMPM rate + FFS monthly invoicing
Gold
Age-Banded pricing PMPM
Platinum
Age Banded pricing PMPM
Employer pays published fee for Fee For Service (FFS) pricing for every visit

Choice of ReforMedicine providers

Access to any ReforMedicine clinic location

No charge or low charge office visit fee

for members

Priority access to provider appointments

Onsite biometrics and flu shot services

Marketing support to encourage utilization of ReforMedicine

Dedicated Partnership Coordinator to continually support integration of your overall benefit offering with ReforMedicine

All member office visits no extra charge for employers

All member preventive labs and immunizations pass-through to employer AT REFORMEDICINE'S COST

All member acute and chronic labs pass-through to employer AT REFORMEDICINE'S COST
AVAILABLE
AVAILABLE
Significantly discounted lab test rates for employee out-of-pocket

Customized data reporting

Level monthly billing

Individual Medical Weight Loss program available at  discount for members

Individual Medical Weight Loss program available at no extra charge for employers

Mental Health Counseling appointment at ReforMedicine at no additional charge for employers
Minimum group size and minimum agreement term will apply. Services marked AVAILABLE are optional additions to the membership plan. The out of pocket cost for your beneficiaries to utilize the clinic is determined by your plan design. Find current Fee For Service pricing listed on our website www.reformedicine.com/for-patients
What Do Patients Have to Say?
Employees who participate in near site clinic services through their employer overwhelmingly love the service. Patients continue to give us high ratings and leave us positive comments like these:
Very thorough, absolutely fantastic!
Awesome staff! Made me feel like I've known them forever!!
Great customer service, definitely coming back.
Love that my work provides services for us with ReforMedicine!
The staff are knowledgeable and caring and want to help find a solution. I've always been able to get in the same day or the next day when calling for an appointment.
It's so easy to set up appointments-they have lots of availability in their hours. I love that I can just email the doctor (or practitioner) through their portal about an issue and they quickly respond with either a solution or ask more questions-they have been very responsive!
ReforMedicine responds to my needs quickly with the same day appointments and friendly knowledgeable staff. They were able to provide me with the new shingles vaccine when other facilities wanted to place me on a waiting list due to a shortage.
I found ReforMedicine to be easy to work with and quick to get into. Dr. Westphal offered me some great advice on my condition which I would not have otherwise known about. Very nice to have low cost visits!
News Articles and Blogs of Interest for Employers Considering Direct Primary Care
Avoiding a cascade of tests (and costs)
This article in the Washington Post covers a common experience patients have, one medical checkup leading to a cascade of tests (and costs). Direct Primary Care (such as ReforMedicine) appointments generally spend more time with patients up front allowing clinicians to take the time with the patient up front which can help avoid this negative experience. Click here for the article.
Transparency on Health Pricing
The author of "The Grassroots Healthcare Revolution," John Torinus, writes a blog that we follow. This article on his blog goes into transparency and as a direct pay practice with clearly published pricing, we agree that transparency is a real key in helping patients make informed choices with regard to their healthcare.  Click here for the article.
Join the ReforMDirect Program
Call 715-514-2827 or contact us online for more information.